SSU Men's and Women's Tennis Sweep Berea
Both Shawnee State University's men and women tennis programs earned 7-0 sweeps over Berea College on Saturday, Sept. 21.  The teams started each match strong and never looked back as they easily improved their records to 2-0.
Men
The men's tennis team began the match with strong performances in doubles by the one-seeded pair of Jacob Freeland (Sophomore of Marietta, Ohio) and Zayden Rinehart (Freshman of Rockwood, MI); then the third-seeded pair of Caspar Nolte (Senior of Germantown, Ohio) and Rodney Spriggs (Senior of Lucasville, Ohio) winning their doubles matches 6-0 to clinch the team's doubles point.
The dominance for the men's team continued into singles play. Freeland would quickly defeat Berea's Brandon Mitchel by a score of 6-0 then 6-0 in the third-seeded singles match.  Austin Hanshaw (Sophomore of Chapmanville, WV) would not take much longer, defeating Michael Malpartida of Berea 6-2 then 6-0 at the number one singles position. Rinehart would then clinch the match for the bears by a score of 6-2 then 6-2 over Berea's Christopher Malpartida in the match between second-seeded players.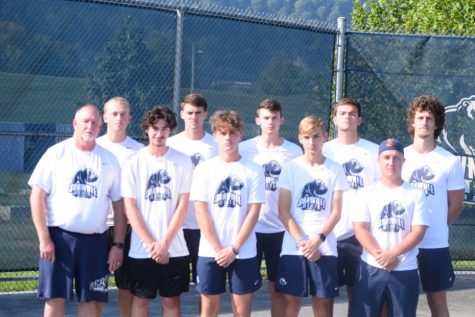 Women
The women's team would also get off to a fast start, sprinting to the team doubles point with all three doubles teams winning 6-0.
Jessica Willard (Junior of Circleville, Ohio) would start off the singles play with a 6-0 then 6-0 win at the number three singles position over Berea's Agnus Dotse.  The top-seeded Grace Eberhard would be the next to finish by defeating Jaden Johnson 6-3 then 6-0.  The victory was then secured by second-seeded Claire Carruthers (Sophomore of Clarksville, Ohio) after she defeated Berea's Ruth Ramos by a score of 6-2 then 6-0.