Steve Boone, Head Coach of SSU Tennis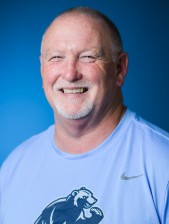 Steve Boone, graduate of Xavier University and the University of Cincinnati, is in his fourth year as head coach for both the men's and women's tennis programs at Shawnee State University.
Prior to being hired at Shawnee State, Boone had coached tennis at Cincinnati Madeira High School for two years.  He has earned certifications from the United States Tennis Association, qualifying him to be a certified roving official, a certified referee, a certified chair umpire, a certified youth instructor and an accredited professional coach.
Boone spoke on the pros and cons to being a new coach in the program, "I've had mixed feelings over the course of these past three years.  I've been excited, unsure, and cautious; but it has been nice having a boss like Mr. Hamilton (SSU Athletic Director) giving me free reign to run the program how I see fit." He was also optimistic about the future for the program, "There's a lot of potential here. It is going to take hard work and time, but consistent progress has been made for both teams; even if it doesn't look like it in the box score sometimes." Boone continued, "The best part about this job is the players.  It is a sight to see all of the different personalities from different backgrounds come together with a common goal and represent Shawnee State University with pride and in an ambassador like way."
He enjoys being able to pass on experiences and memories the players will carry with them for the rest of their lives.