New Coach for Women's Basketball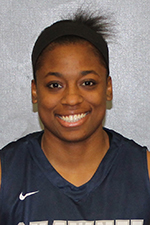 The Shawnee State Women's basketball team has had another change in the coaching staff for the upcoming season, with Assistant Coach Shavon Robinson joining the coaching staff. Robinson was a former basketball player under Head Coach Jeff Nickel, playing for Shawnee during her senior year. For the previous three years, Robinson was a member of the Ohio University Bobcats Women's basketball team.
Robinson has been heavily involved with basketball throughout her life. Most recently, the assistant coach and her brother created an AAU organization in her hometown of Canton, Ohio where Robinson was a coach for three years. Throughout this time, the creation of the organization expanded like wildfire. They quickly had 12 teams in the organization they created.
When asked what made Robinson fall in love with basketball, she said, "My family was very involved with basketball. Throughout my childhood, I used to always watch my dad teach the game and my brother play the game. Through watching them, I gained my own love for the game that would go on to last a lifetime."
Throughout her time at Shawnee as a player, she developed a love for the campus. Robinson also developed a special bond with Head Coach Jeff Nickel. When asked on her return to Shawnee as an assistant coach, Robinson stated, "Now that I am looking to pursue a career in coaching, why not return to where I last played? I would be learning under Coach Jeff Nickell, who demands to be better. Coach Nickell is one of the best coaches in Ohio and has created a solid program that I am excited to be a part of."
Basketball has always had a special place in Robinson's heart, from being surrounded by basketball growing up, playing the sport and now being a coach. When given the chance to comment on her desire to coach, Robinson answered, "Basketball has always been a huge passion of mine. I know that I have a lot of fun teaching the game. When I visualize and witness the lights kick on in a player's head when they learn something it makes me extremely happy. It also allows me to fulfill my passion and heart to be able to teach the game I love."
Looking to the future, Robinson is excited for the first game of the season. Opening day for the Lady Bears is October 25th on Shawnee's home court against the visiting Lourdes University.