Player Profile: Steven Zimmerman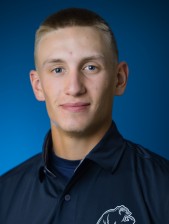 Steven Zimmerman is a junior and a member of Shawnee State University's Men's basketball team. Zimmerman is from Piketon, Ohio and a 2017 graduate of Piketon High School. "I started playing basketball in 3rd grade, when little kid leagues first started." In high school, Zimmerman had honorable mention for the all-conference team and was a known threat in his roles as he describes, "I was a defensive role player and a three-point specialist." Zimmerman originally went to Shawnee State his freshman year but did not play basketball. He then decided to transfer to Wright State University, "At Wright State I played a lot of rec-league basketball and found the passion for the game again." This then led Zimmerman to return from back to Shawnee State.
"The reason I left Wright State was because of the new assistant coach at Shawnee (Jack Trainer) told me to come tryout for the team and try to make it on as a walk on. When I met with Coach Thomas and did my tryout and got on the team, I knew this is where I belonged, and I was excited for this new chapter in my life." Zimmerman continued, "Every day I have improved my strengths and my weaknesses because I know that in order for me to succeed, I have to get an edge over the guy that's next to me." Zimmerman has taken pride in his strengths since making the team. "My goals for myself are to prove to myself and to others that I'm not just a walk on that just trying to get free gear but that I'm here to play, compete, and improve." For the team as a whole, Zimmerman believes there is talent and will go on to compete in every game in the upcoming season.