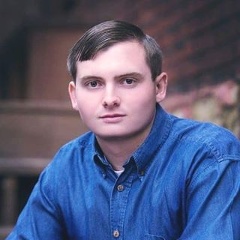 Jaden Morris is a sophomore at Shawnee State University, majoring in English/Humanities with a concentration in Integrated Language Arts Education (Grades 7-12). Being a native of Portsmouth, Ohio, Jaden has always been fond of his hometown and the local community. English and writing have always been deeply passionate subjects for him, from an early age and ultimately even influencing his college and career goals. His career ambitions include becoming a local high school English teacher, preferably in the Portsmouth area. He is heavily influenced by his faith and by his Lord Jesus Christ. At Shawnee State, Jaden hopes that writing for the
Chronicle
will allow him to develop a more thorough understanding of the depth and power of digital media and communication.
As an aspiring writer, both for college and as a lifelong pursuit, Jaden's special writing interests vary, but include a niche for the local setting (of Portsmouth, Ohio). Growing in Portsmouth, he has always been familiar with Shawnee State University as well as other academic institutions, and hopes that by attending the college locally and developing various writing skills, he will be able to contribute positively to the community and to those around him. Such aforementioned special interests of his include various topics such as the local history of Portsmouth, Ohio, local political elections, religion/faith, American literature, as well as national and global current events.
Faith is an important guiding precedent that has greatly influenced Jaden's life, inside and outside of his academic pursuits and writing. He is an adamant Christian and hopes to spend his life spreading the love and joy of Christ to those around him. He enjoys studying theology and religion, as well as exploring church history. Introducing others to the political atmosphere, both at the local and national level, are also of significant importance to him. His political and philosophical perspectives have greatly influenced his life and pursuit to bring valuable communication and media to others.
For Jaden, writing about and analyzing history, politics, and current events is about making connections. An example of such is the drug opioid epidemic, which has greatly impacted Portsmouth. One of his primary goals of writing about content of the sort is to help to establish and build a clear, transparent bridge between the political, economic, and historical elements of the community and those around him. Jaden hopes that writing with the
Chronicle
will help contribute to the overall awareness and recognition of the many different issues and matters ongoing in our local community and society.
Jaden Morris, Staff Reporter
Nov 25, 2020

Time is of the Essence!

(Story)

Nov 16, 2020
Nov 09, 2020

Election Day in Scioto County

(Story)

Nov 04, 2020

A Difficult Defense?

(Story)

Oct 26, 2020

Winter and Wellness: Staying Safe this Season

(Story)

Oct 20, 2020

Remember Your Pastor!

(Story)

Oct 10, 2020

Pass the Plate, Scioto County

(Story)

Oct 09, 2020

A Swift Stimulus?

(Story)

Sep 28, 2020

Scioto County Moves to Level 3 as Death Rate Increases

(Story)