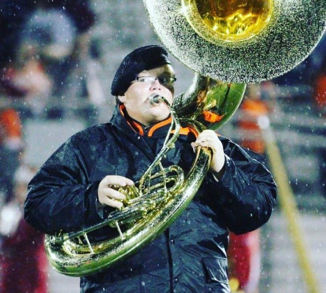 Nate Marcum, a 21-year-old at Shawnee State University majoring in English with a Communications Concentration, is an aspiring writer who hopes to use his writing to make a difference in the local community, starting with the school newspaper. With interests ranging from theatre and music to the paranormal and history, Marcum can write about nearly anything and he enjoys doing so.
Growing up Free Will Baptist, Marcum developed an interest in spiritualism which led him to become more interested in the paranormal and the realm of superstitions. Along with his interests in religion and spirituality, Marcum is also a seasoned actor who has been involved in over 30 plays with his favorite play being a tie between Wizard of Oz and The Humans. Marcum hopes to be able to combine theatre and his passion for writing saying, "I'd love to integrate that love [for theatre] into my degree and eventually my work". He is especially enthusiastic about immersive theatre, which Marcum explained is when the audience interacts directly with the actors. Immersive theatre is still finding its place on the acting stage, and Marcum hopes to be a front runner in this up-and-coming type of theatre.
"I believe that local news is paramount to an educated and engaged community", said Marcum when asked about why he wanted to write for the Chronicle, Shawnee State's school newspaper.
Marcum had a couple of reasons for wanting to write for the Chronicle newspaper. First, he wants to better his own skills as a writer and writing for the newspaper would allow him to do just that. His second reason, which to Marcum is even more important than the first, is because he wants to keep students entertained and up to date. It's important to Marcum that the newspaper is as readily available as possible and that the content of the newspaper pertains to the diverse range of students at Shawnee State University.
Nate Marcum, Staff Reporter