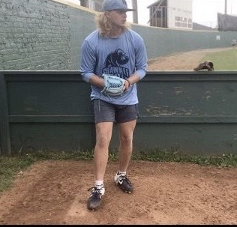 Troy is a junior coming from Mansfield, Ohio who majors in sports management. Troy is a baseball player for our Shawnee Bears, but also has a second passion in writing. For him is very important to write because seeing that people enjoy his work and can have fun, but at the same time, be informed about a certain topic. This brings him a lot of happiness. Troy also states, that writing during this period will help him improve in many areas of his life. Not only it will help in his future job, but also in communicating with people and to sympathize with other's situations.
Troy's purpose with writing is to express himself and help people be informed about important news especially the ones related to sports. This area in specific is where he shines the most, due to all the knowledge he has about sports, especially baseball, makes him want to write and teach people about them. Troy says that writing in these days is a very underrated way of communication, since many persons prefer to either watch news or other things and avoid reading and dig into it and absorb information from that being newspapers, articles, magazines, books or any other method of writing. He says that his purpose with writing is to encourage others to gain information and learn different areas of life so that they can be prepared to achieve their respective goals.
Troy also wants to learn more about writing to be prepared for anything life has prepared for him after college. He says that no matter where life puts him, he wants to be ready so that way he would be able to perform and achieve his goals.
Troy Vermillion, Staff Reporter