10th Annual Shawnee State University Drag Show
Wednesday night, Nov. 20, was the 10thAnnual Shawnee State University Drag Show.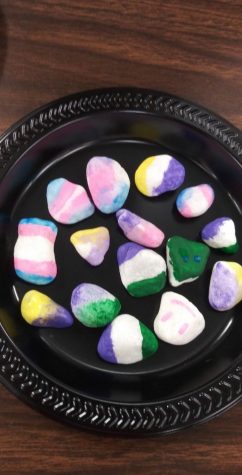 The event started at 8:00 PM, with doors opening around 7:30 PM. Students and community members were able to attend for only $1. However, certain students who were paying attention to the feed on the SSU app may have noticed a post by SAGA president, Jae Keniston, which showcased rocks painted with the colors of different LGBTQ flags. If students found one of these rocks hidden across campus, they would be able to get into the event for free.
Nov. 20 was also Transgender Day of Remembrance, a day to remember the Trans people around the world who have lost their lives to violence and hatred. The date was acknowledged during the drag show, as the show represented a place for acceptance. However, there is a conversation that people need to be aware of that surrounds the relationship between transgender identity and drag. Not all transgender people approve of drag because of the idea that drag can portray their transition as a costume, and that some people can see drag as more acceptable than identifying as transgender because drag is more momentary. Although this conversation exists, this does not mean that this is the attitude of those sponsoring and working for the event. It is actually quite the opposite, as Christina Jones, Director of the Women's and Gender Equity Center, mentioned that they strive for acceptance for all people everywhere.
This year, the event was held in the Vern Riffe Center For The Arts, and students packed the lower tier of seats. Students attending were able to watch as their fellow students performed and were judged by faculty, staff, and other students that filled the first row. The positive energy continued through the night, with the help and performances of the comedic MC, Tammy Faye Sinclair, and performances from Jenna Stone Sinclair and Ashley Stone, all of which were spaced between the performances of the students.
"I am beyond proud of our cast. SAGA prides itself on bringing together people and being a place for all! And that is what Drag is about. It is an art for ALL," said Jae Keniston. As the president of SAGA, his hard work (as well as the work from the rest of the eBoard) was instrumental to the event. Jones mentioned that the members of the eBoard prepare for this event for about six months of the year.
A new feature was also added this year called the eBoard Exhibition. Normally, members of the eBoard are not able to win any categories, despite being so invested and passionate about the art of drag. The eBoard Exhibition give those that work so hard for the event an opportunity to participate in their own category. The members of the eBoard that made appearances in the show were Tiny (Maine Coon, Vice President of SAGA, pronouns: They/Them/Theirs), Shane McKinney (Sheila Cross, Former Secretary of SAGA, pronouns: He/Him/His), and Jae Keniston (DragBot, President of SAGA, pronouns: He/Him/His & [As DragBot] They/Them/Theirs).
Drag Show Participants & Winners
This year, the drag show had quite a few participants. The list below includes all of the students who performed, including members of the eBoard.
Dick Ricky (Shann Carol)
Apollo Rost (Jenna Reffitt)
James Ashton (Katie Norman)
Peaches (Divine Roper)
The Collective Braincell (Mindy Hamann, Jamie Copley, Grace Crone)
Dee Froster (Jerrit Crosier)
Naomi Paws (Ezekiel Rogucki)
Fantasia (Fabian DeHart)
Queentea AllShade (Jacob Smathers)
Nikki (Niko Richards)
Sheila Cross (Shane McKinney)
Maine Coon (Tiny Cooper)
DragBot (Jae Keniston)
There were multiple categories throughout the night that students participated in. Below, you can see a list of the categories, along with who won each.
Kings: Apollo Rost
Royalty: Peaches
Groups: The Collective Braincell
Queens: Queentea AllShade
eBoard: Maine Coon
Overall: The Collective Braincell
Interview with the Queens
This year, Shawnee State welcomed three special guests for our drag show, one acting as the MC and all giving special performances throughout the night.
The first was Tammy Faye Sinclair, the comedic MC who kept the audience engaged with the show throughout the night. Sinclair first started into drag around 2002. Her drag name came from Tammy Fay Bakker (Messner), an evangelist singer. Sinclair first sung gospel before moving into the more comedic side of performing. She enjoys comedy, doing something different from what she says she sees a lot of queens do and utilizing spoofs of songs in her acts that people may recognize the melody, but be shocked by the lyrics.  She's also working on a PhD.
Ashley Stone started into drag somewhere around 2007. She performed several times throughout the night. She enjoys performing gospel and playing up big girl puns. Being a bigger queen and seeing all the queens on the skinnier side of things, she likes to show she can move and perform just as well as they can.
Jenna Stone Sinclair is the newest of the trio, having started into drag only about three years ago. She also performed several times throughout the night. While she mentioned that she didn't have as many shows in as the other two, she enjoys dipping into a little bit of everything.
The trio sometimes calls themselves the "Sisters of Sin," or "Charlie's Devils" as Jenna provided. They perform as a package deal, often doing fundraisers and events for student groups and Relay for Life on Marshall University's Campus. Tammy also mentioned an upcoming performance at a Marshall University Talent Show. In the case of Shawnee, it happens that Tammy used to work with Marlita Cadogan in recruitment and was asked to come to Shawnee as a favor.
Both Tammy and Ashley were raised Pentecostal, and have some preferences for including gospel in their performances. Ashley has since moved to more apostolic views and is actually a priest. Tammy mentioned several times how people would thank her after performances for the songs they hadn't heard for a while after being rejected from their churches.
"This is about making people have a good time and feel accepted," Tammy said, while discussing how there's so much negativity in the world, so why not make someone happy as a better option.
As for the children that made appearances in the show? Our guest performers are their legal guardians. These children love drag and love to come to the performances, though they do step out when their guardians are in the dressing process. Tammy said that, to her, drag is like a performance art. Similarly, the children know this and see this as dressing up for the performance.
Before the show, Tammy, Ashley, and Jenna arrived somewhere around 4:00 PM to start preparing, even though the show didn't being until 8:00 PM.
"I think a lot of people don't know the behind the scenes stuff," Tammy said, listing off some of the supplies used such as superglue, duct tape, masking tape, medial tape, and hip pads made out of foam.
Knowing that participating in drag or even coming to the shows can be difficult for some due to the stigma associated with it, we asked the trio if they had any advice for those that weren't able to come, or those that couldn't bring themselves to perform in the drag show even if they really wanted to.
Tammy said, "Be themselves, be you."
Ashley said, "Be who you are and don't let anyone decide that for you."
Jenna said, "Do what you want and do it boldly."
However, acceptance isn't easy. Tammy described how her mother wouldn't come to any of her shows until about the last two years. Now attending these, her mother has a better understanding and attends as many shows as she can, especially if they're local.
We at The Chronicle thank these queens, both for the lovely performance and for taking the time to answer a few of our questions. We hope you feel welcome back at SSU any time!
The Trio can be found on Facebook under each of their respective drag names. However, you will have to add REV before Ashley Stone!
Feel free to share any pictures you may have taken in the comments!