SSU Students Travel to Puerto Rico
Four students from the English/Humanities Department at SSU traveled to Puerto Rico on a fully-funded 5-day trip. 
The trip was organized and led by Dr. Salinas, who teaches a variety of courses on Spanish language and Hispanic culture and literature. 
This was the second international trip, the first since the beginning of the pandemic, that was funded by the Betty and Jim Hodgden Travel Fund at SSU. The fund was created so that students could travel outside of Southern Ohio to engage with other cultures and expand their worldview. 
The four students, Scarlett Caudill (sophomore), Bethany Smith (junior), Abraham Heimbach (senior), Aubrey Boland (senior) along with Dr. Salinas departed from rainy Portsmouth at 5:30 a.m. on Dec. 11, 2021 to begin their long day of traveling to Puerto Rico. For some of the students, this was their first time leaving the country, while others were well-traveled, but together, all were eager to learn and experience a new culture. 
Language barriers can prove to be a challenge but the students were ready to face that obstacle and expand their Spanish speaking skills. The US government recognizes both English and Spanish as the official languages of Puerto Rico but Spanish is the most widely spoken. Over 95% of the population speaks Spanish while only roughly 10% speaks English. Spanish is the language most commonly seen and heard in business, education, and daily life. 
Once in San Juan, Puerto Rico, the travelers had a full schedule ahead of them. First, the group attended an art tour where they were able to see prominent Puerto Rican murals. They were also able to attend a famous local artist's gallery in Loíza, finishing off the day with lunch with a view of the beautiful blue ocean.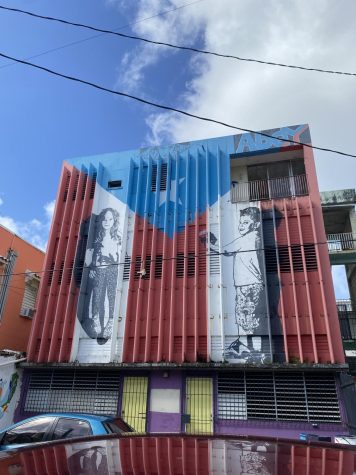 A lot can be learned about a culture through song and dance. To learn about Afro-Puerto Rican culture, the group attended a Bomba lesson in San Juan.
Bomba is a style of dance and music that originated during the days of slavery in Puerto Rico and is an important part of their Afro-Puerto Rican culture. It was a unique experience that was not only fun but also educational. 
A favorite amongst the group was their trip to El Yunque National Rainforest, located about 45 minutes from San Juan.
El Yunque is the only certified tropical rainforest on U.S. Territory, so it was truly a once-in-a-lifetime opportunity to experience it firsthand. During the excursion, they learned about the rainforest ecosystem, climbed one of the tallest waterfalls, swam in the river, and tried some authentic Puerto Rican cuisine. The group agreed that it was truly an unforgettable experience.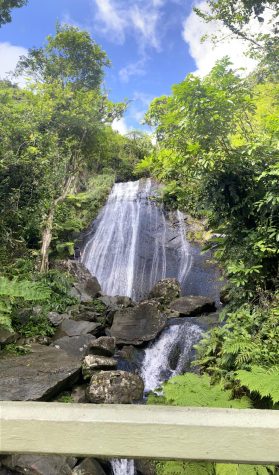 The students and Dr. Salinas also visited Old San Juan where they saw Puerto Rico's oldest fortress, Castillo San Felipe del Morro, which was built in 1533. The fortress, while a national monument now, stands undefeated as conquistadors defended the waters of San Juan for decades. 
The students described their trip to Puerto Rico as truly enriching and memorable as they made lifelong friendships with each other all while gaining new cultural perspectives.
The students encourage everyone to take the opportunity to travel if one ever presents itself. Traveling outside of your hometown and what is most familiar to you, while scary at times, will lead you to an eye-opening and unforgettable experience.