What's the hype about TikTok?
Sitting at the number two slot in the Apple App Store is TikTok. TikTok currently outranks well-known apps such as YouTube, Instagram, Facebook, and Snapchat.
What is TikTok?
According to the app's description on the Apple App Store, "TikTok is THE destination for mobile videos. On TikTok, short-form videos are exciting, spontaneous, and genuine."
On the app, users can create videos ranging from 15 seconds to 3 minutes long. TikTok is most well-known as a lip-syncing app where users can play around with sounds and filters to mouth the words to songs or other forms of audio. It is also popular for users on the app to create dances to various sounds.
On Sept. 18, 2021, the TikTok Team announced that more than one billion people around the world have joined the TikTok app. The team stated, "Our global community is remarkable in its ability to reach millions of people, across generations. From music, food, beauty and fashion to art, causes, and everything in between, culture truly starts on TikTok."
History
In April 2014, the app Musical.ly was released. This app allowed users to create short videos from 15 seconds to one minute long. Musical.ly shares a lot of characteristics with TikTok. One of the characteristics would be that Musical.ly was popular for users to dance and lip-sync. In 2015, Musical.ly was the most downloaded app in the Apple App Store.
In an article written by Katie Anderson, she states, "In September 2016, the Chinese company ByteDance released a similar lip-synching video creation app called Douyin and then launched TikTok for markets outside of China."
In November 2017, ByteDance purchased Musical.ly. In 2018, ByteDance merged Musical.ly and TikTok together.
The co-founder and co-CEO of Musical.ly, Alex Zhu, explains in an interview that his first app idea, focused on education, was a failure. During a train ride, he noticed teenagers listening to music and taking selfies. That moment helped Zhu realize that he needed his app to focus more on entertainment rather than education. Zhu believed that starting Musical.ly as an entertainment app would later open the door for educational content to appear on the app.
As the president of TikTok, from November 2017 to May 2020, Zhu was able to continue to see his dreams for the Musical.ly app come true as Musical.ly merged with TikTok.
TikTok as a learning tool
As Alex Zhu envisioned, TikTok is used by many as an educational tool.
Bill Nye, also known as "Bill Nye the Science Guy," posted his first video on TikTok in early 2020. The show "Bill Nye the Science Guy," started in 1993 and ended in 1998. However, Nye has turned to the TikTok app to continue to share educational information.
Some of his videos consist of COVID-19 information including a video of Nye demonstrating how washing your hands with soap breaks up COVID-19 molecules. Another video shows Nye doing an experiment to explain the scientific term entropy which he explains as the "lack of order or predictability; gradual decline into disorder."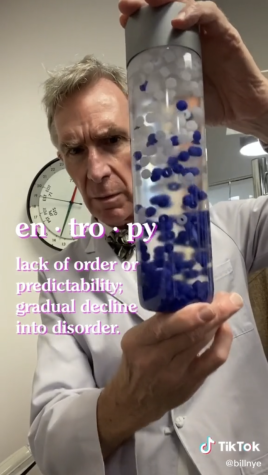 Bill Nye has 8.3 million followers on TikTok and a total of 39.8 million likes.
Hank Green is well known for the "CrashCourse" YouTube channel that he started with his brother, John Green. The brothers focused on creating educational videos that were free to everyone. In 2019, Hank Green joined the TikTok community. Hank Green currently has 6.3 million followers and a total of 420.1 million likes on TikTok.
Hank Green posts many videos on TikTok for entertainment and educational purposes. He posts videos that use trending filters and sounds to reach a wider audience. He encourages his followers to use #askhank in their captions or comments so he can make a video response. Hank Green has answered questions like "Do protons/electrons have a taste?" asked by the user @nschro23 on TikTok.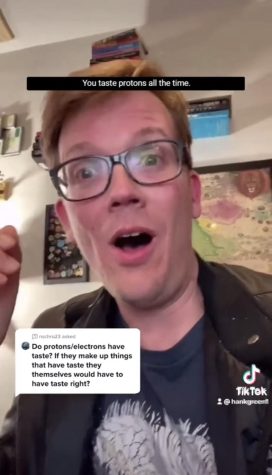 Cooking and TikTok
Many users have turned to TikTok for cooking tips and recipes. On the app, #cooking has over 69.9 billion views. Chefs have also joined the app to share their expertise and recipes.
Vivian Aronson, who was featured on "MasterChef" season 10, creates TikToks showing her favorite recipes. Aronson also features her visits to the local Asian market on her channel.
Aronson has shared recipes for dishes such as "one tomato lazy rice" and "mao cai." Aronson has 2.4 million followers and a total of 69 million likes.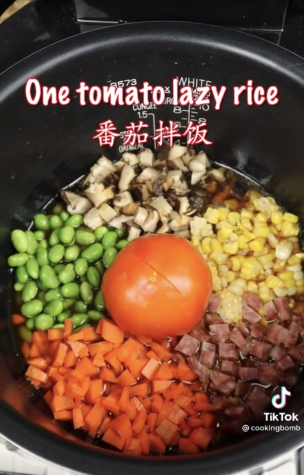 Gordon Ramsay, one of the hosts of "Master Chef," joined TikTok in 2020. Ramsay is well-known for his extreme reactions to chefs on the show. He has 30.9 million followers and a total of 462 million likes.
Ramsay uses TikTok to react to other users' creations. His "harshness" that fans have grown to love is evident in his TikToks. In one video, Ramsay critiques user @myhealthydish's video of her creating a "low carb sandwich" with bell peppers instead of bread. In disbelief, Ramsay states, "That is not a sandwich. No, that is not a low-carb sandwich." This video has accumulated 9 million views and 59.8 thousand comments.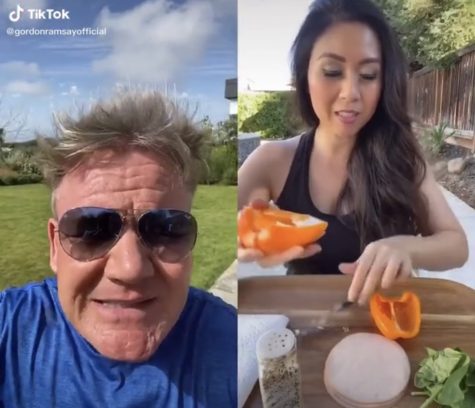 Ramsay does not limit his content to critiquing videos, he also shows his own recipes and cooking tips. Ramsay has created videos demonstrating step by step how to make focaccia pizza, pimento cheese dip and other dishes.
A new form of advertisement 
With the growing popularity of TikTok, many users have started to use the app as an advertising tool.
In early 2021, Duolingo joined TikTok. Duolingo is a language learning website and app that has 2.9 million followers and a total of 53.9 million likes on TikTok. Duolingo started off by creating short videos teaching vocabulary words in various languages. One of these videos included Italian fashion vocabulary words.
More recently, Duolingo has transformed its content to center around the Duolingo mascot, Duo. In the videos, users can see the big, green owl participating in TikTok trends around the Duolingo headquarters. In Duolingo's most viewed TikTok video, Duo is dancing to the Taylor Swift song "Enchanted." This TikTok has over 24.1 million views.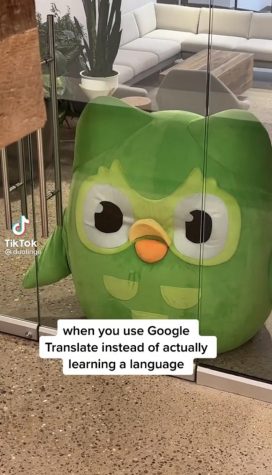 While TikTok is considered an entertainment app, it has proven to be much more. From educational videos to cooking videos to advertisements, TikTok has it all. There are no limits when it comes to content on this popular app. To learn more about TikTok's creators, trends, and other reports, click here.