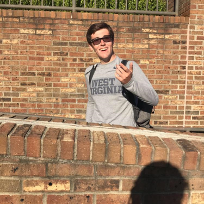 Evan Green is an up-and-coming writer from Portsmouth, Ohio dedicated to providing his readers with accurate and unbiased news on a large variety of subjects. Evan has worked for almost a year as a professional journalist, starting out at Scioto County Daily News, where he is still currently employed. Since then, he has also written for the Shawnee State Chronicle and the Portsmouth Daily Times. Evan chose to continue writing for the
Chronicle
this semester in order to broaden his experience in the journalism field while also making connections with fellow writers in the Scioto County area.
Evan is currently a College Credit Plus student at Shawnee State University, meaning he is taking college classes while still in high school. Evan will graduate from his high school, Portsmouth West High School, in May of 2021, and looks forward to continuing his writing career after graduation by majoring in journalism while in college. In his free time, Evan enjoys creative writing, and he has written many short stories and screenplays that help him strengthen his skills as a writer while also providing a form of relaxation. Evan's primary areas of interest in the journalism field are pop culture and politics. The ever-changing trends and points of interest within both of these topics is very interesting to Evan, and he hopes to one day be able to focus his journalistic career on one if not both of these fields.
Writing for the Shawnee State
Chronicle
will help Evan to strengthen his writing portfolio which will be very helpful in acquiring future jobs in the field of journalism. Evan has also participated in many events related to the Scioto County area during his time as a reporter for various local publications, and so hopes to continue to provide this area with news and information for as long as he lives here.
Evan Green, Staff Reporter
Nov 18, 2020

November Election Leads to Marijuana Legalization in Four States

(Story)

Nov 10, 2020

Kamala Harris Elected as America's First Female Vice President

(Story)

Nov 02, 2020

Trump Parade Travels Through Southern Ohio

(Story/Media)

Oct 25, 2020

The Final Presidential Debate: Who Won?

(Story)

Oct 19, 2020

The Red Flag Campaign Returns to Shawnee

(Story/Media)

Oct 08, 2020

2020 Vice Presidential Debate Recap

(Story)

Oct 03, 2020

President Donald Trump Tests Positive for COVID-19

(Story)

Sep 28, 2020

How Shawnee Students Feel About COVID-19

(Story)