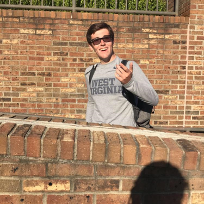 Evan Green is a college credit plus student and is also a high school Senior at Portsmouth West High school. He plans to major in Journalism here at Shawnee State.  Journalism was an interest to him as young as elementary school, yet his interest and passion only continue to grow as he ages.
Evan said, "I've written short film scripts, sketch scripts, I'm currently in the process of writing a fantasy novel, I also work for Scioto County Daily News (SCDN) as a reporter, and I've written for the Portsmouth Daily Times as well." He enjoys writing about anything but if there was one type of writing that he dreads ever doing again is on local history. Evan was burnt out on local history because his job burnt him out.
Evan is working on a writing; he is a big-time fan of fantasy novels which inspired him to write his own novel. He is currently 40 pages in and still making progress. School seems to put the brakes on his downtime writing, but he plans to work on it slowly.
Evan named his role models as a group of brothers from Huntington, West Virginia. They were the McElroy brothers, Evan stated, "They started out as journalists in high school, like me, and slowly grew a following until they could make careers in comedy. I find them so inspiring because they come from a small town that is extremely similar to Portsmouth, and yet they still managed to become nationally famous and have had the opportunity to tour around the US multiple times."
Evan loves the Harry Potter series but was very hesitant to say who his favorite author was. Coming from the person that loves fantasy and gets that love from the Harry Potter series, you would think his favorite author would be J.K. Rowling, but Evan says it is not, "due to the transphobic comments she has made on Twitter which I absolutely do not agree with."
Evan Green, Staff Reporter
Oct 19, 2020

The Red Flag Campaign Returns to Shawnee

(Story/Media)

Oct 08, 2020

2020 Vice Presidential Debate Recap

(Story)

Oct 03, 2020

President Donald Trump Tests Positive for COVID-19

(Story)

Sep 28, 2020

How Shawnee Students Feel About COVID-19

(Story)