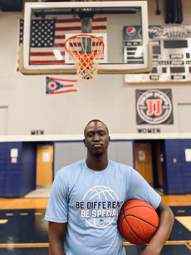 Issac Abergut is an international basketball player from Melbourne, Australia. His first-time leaving the country of Australia was two years ago when he came to the United States for college. He began his college career at a junior college in Montana at Miles College. After he graduated from Miles, he transferred to Shawnee State with plans to continue his pursuit of a Communication degree while also playing on the men's basketball team.
Issac is not the biggest fan of writing when he is forced to write over a topic he has no interest in. However, when he is in control of what he gets to write about, he has no problem writing and can write for days. Over the last couple of years, Issac has taken a keen interest in racial inequality and has used his writing to speak on the subject. "With being black men in America, we have to face different forms of racism every day." With current events, Issac feels like there are plenty to write about in regards to the topic of racism.
Writing for the paper is important to Issac because he has a voice that he feels should be heard. If you look at professional sports, you see athletes such as LeBron James using their platforms to speak up for what they believe in. Issac believes he can do the same, even though it will be on a much smaller scale. The more comfortable he gets with writing now will help him be more confident with his writing in the future.
Isaac Abergut, Staff Reporter
Nov 06, 2020

How Many SSU Students Plan on Voting?

(Story)