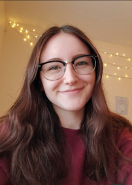 Jerilyn Garrett is a junior in her second year at Shawnee State University. She is majoring in English and Humanities with a concentration in Communications. This area became an interest to her while she was working with various forms of media, such as writing and photography, during her high school years. Jerilyn hopes that writing for the paper will provide her with experience related to her major as well as expose her to new and different perspectives in various areas of her life. Her areas of interest are campus and community events. As a writer, Jerilyn's strengths lie in her ability to create strong statements and adjusting her tone of writing to fit her audience and topics. She hopes to improve her knowledge of different styles and forms of writing that are unknown to her. Jerilyn views writing as a creative outlet that allows her to express her thoughts and ideas with others.
After she graduates she plans to pursue a career in the media or publishing field. Jerilyn would like to work with various companies and organizations as a media manager while also engaging in event planning. She has also considered attending law school after graduation. She believes this would be a great addition to her communication concentration and she is interested in social and judicial issues.
Jerilyn is from Peebles, Ohio which is a community-oriented town in southern Ohio. She chose to attend Shawnee State University because of its close distance to her home and the size of the campus allows a more friendly environment among students and staff. As a child, she attended preschool at the Children's Learning Center on campus. Jerilyn says, "Everything has come full circle in a way," since she began and will complete her education through Shawnee State University. Though Jerilyn has yet to participate in any campus clubs, she enjoys spends her time reading, watching movies and TV, practicing photography, and being with her dogs. She is motivated to make every day great and live her life to its fullest. Another feature of Jerilyn that most people would not know from a first glance is her love of "spooky stuff." She loves horror movies, ghosts, etc., and her favorite film is
Coraline
.
Jerilyn Garrett, Staff Reporter
Oct 15, 2020

Looking Local: National Adopt a Shelter Dog Month

(Story)

Oct 11, 2020

Finding Support Through Family Connect

(Story)

Oct 09, 2020

Halloween Brings a Treat: Rare Blue Moon

(Story/Media)

Oct 01, 2020

Trick-or-Treating Amid the Pandemic

(Story/Media)