Looking at Shawnee Through Scioto County
Some debate that there is a "hierarchy" of education based on where a college degree is earned; at the top there are prestigious Ivy Leagues, followed by large Division I universities; then state and regional colleges (like Shawnee) and finally community colleges and technical/trade schools. This has been a stigma in our society for generations and has led to few being highly-praised for acceptance into a top-tier school, and unfortunately, many stigmatized for choosing a smaller institution. The perception of larger universities being the only type of secondary education able to provide a worthwhile education are damaging to small regional colleges like Shawnee. This viewpoint only serves to discredit the hard work of students and faculty for the exact same degree as those who attend any other college, Ivy League or not. A first-year Shawnee student stated, "I wouldn't change the environment of [Shawnee]. Most of the faculty are friendly and willing to help students with their needs because they genuinely want them to succeed." While Shawnee may not be commonly considered a member of prestigious higher education, there is still much to offer students, and even more of which to be proud.
Considering the way people view Shawnee, The Chronicle set out to see if high schools in Scioto County also bought into this hierarchy and whether there was any discouragement towards students from going to Shawnee in favor of a larger university. To gather this information, The Chronicle reached out to all fourteen high schools in the county and interviewed representatives from each about college options made available to graduating seniors, particularly to what college campuses the schools arrange group visits and which college representatives visit the school. These questions are designed to see how much effort is given from each district toward scheduling campus tours for students and to gauge what colleges reach out to each high school through giving students information and enabling them to make an informed decision about their future path. To help students choose the right college, most schools within the county give each senior two to four excused absences for taking scheduled campus visits to the college(s) of their choosing.
These charts show the data collected as a result of phone interviews from each school. The first chart is a representation of which colleges reached out to each high school and subsequently held an exhibition for their seniors.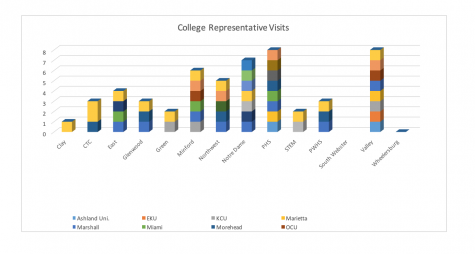 It is important to note, for purposes of validity, that when talking to South Webster's Guidance Counselor Andrea Cline, she stated they normally have 12-13 representatives come to their school. She also expressed she was relatively new in her position, so the specific schools could not be recalled at the time. The Chronicle is currently waiting on specifics so we may fairly represent the school. Wheelersburg, the other school not shown, did not report having any specific schools either; when asked, a representative replied, "We'll let pretty much any school in as long as they reach out to us."
This chart is consistent with previous expectations; a large representation of schools within a two-hour radius, then a couple inconsistent outliers. The schools welcoming the most representatives are Portsmouth High School with eight schools; the furthest being Ashland University. Also tied for first is Valley, with their furthest also being Ashland University. Valley does however have more out-of-state representation with the additions of Eastern Kentucky University and Kentucky Christian University. Notre Dame comes in at a close third place with seven representatives; their furthest being Ohio Wesleyan, which Notre Dame is the only school reported to host them along with the University of Cincinnati and Ohio Dominican. These three schools are leading in the most visiting recruiters category, with the average number of representatives for each school being 3.7. Looking at the results as a whole, there are several trends: the highest concentration of representatives in these schools are Shawnee, Marshall, and Morehead; as predicted prior to data collection. The most prevalent trend is Shawnee making its rounds to every school in the county, barring Wheelersburg, which did not definitively provide college names. Regardless of possible negative perceptions of Shawnee, no school has completely shut their doors to Shawnee and are not opposed to their students exposure to what we have to offer.
The next chart shows the visits high schools have made to college campuses in the past year. This data was collected in the same manner as the previous data, however, it was cross-referenced with the campus visit record kept by the admissions office for an accurate display of statistics. South Webster is again left out of the findings demonstrated by the graph, based on the subject of validity. Scioto County Career and Technical Center informed The Chronicle that they had done campus visits in the past, but not recently. This explains the absence of statistics for the trade school. Glenwood and Wheelersburg both stated they do not take campus visits routinely.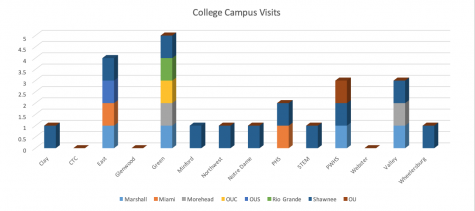 Unlike the other chart, this one did not replicate expectations. There were a surprising number of schools that didn't take tours of colleges, or only visited Shawnee. This is not a bad thing, but it does speak to the level of initiative each school takes to give students exposure to college options. The leader in college campus visits is Green, with five college campus visits in the past year, including both Rio Grande and Ohio University Chillicothe. Not surprisingly, the majority of high schools made campus visits to Shawnee through career fairs, classroom sit-ins, and other means of experiencing the college. This proves most high schools in the area are generally receptive to their students entertaining Shawnee as a possibility for a college education, thereby disrupting the conceived idea of Shawnee not being credited enough for being a small regional college.
This concludes that Shawnee State University has not seen any backlash from the local high schools. By the 15th Day Enrollment Report Spring Semester published by the Office of the Registrar, the Spring semester of 2019 had 1,241 Scioto County Residents enrolled at SSU, and in Spring of 2020 that number jumped to 1,304; an increase of 63 students and a net growth of the student body of 5.0% this past year. When speaking to the respective high school representatives, their attitudes about SSU were generally favorable. Eastern High School Counselor Corey Ruby even went as far as to say, "I encourage all of my kids to go to Shawnee." At this time, there is no conclusive evidence that local high schools are at all influenced by the negative perceptions that often been associated with small regional colleges.