Graduation Fees: Where Does All the Money Go?
It is that time again, Bears! One semester before you graduate, you petition to graduate that next semester and you are charged a fee for graduation. SSU charges a $45 fee when you petition to graduate; so what exactly are the fees used for? This fee is used for the "first time petition." If you petition more than once, you will not be charged again afterwards.
Cap and gowns are purchased separately from this fee, however. This semester, "Countdown to Commencement" was held on Feb. 26, 2020 from 11:30 a.m to 1:30 a.m in the Morris University Center. It was held in the open rotunda area across from Smith Coffee House. The first table was where students could sign up to win SSU merchandise such as shirts, umbrellas, and so much more! The second table was where you order your cap, gown, tassel, and other items, too. The total fee for your cap, gown, and tassel (and souvenir tassel if you want one) costed around $70. SSU goes through Herff Jones for the purchase of your graduation items.  The third table was where seniors can choose to "leave their legacy" by purchasing the Senior Gift, which is optional.
What exactly is the senior gift?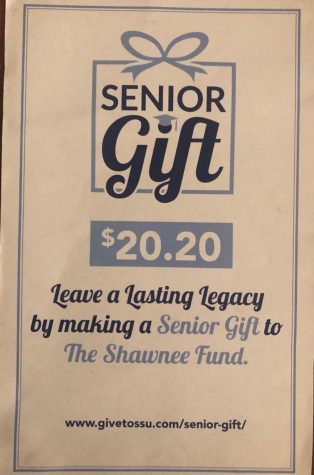 "A Senior Gift is a way for graduating seniors to give back to future generations of SSU Bears. By making a gift of $20.20 you are impacting future student programming, research, and development. Gifts made to The Shawnee Fund by alumni, students, faculty, staff, and friends help fund current projects that have an immediate effect on students at Shawnee State."
If you do purchase the senior gift, you will be given a blue cord to wear at graduation. At the same table, just a seat down from the senior gift, there was a flyer for Senior night.  The fourth table was the financial aid table. If you had any outstanding student loans or still need to make a payment, then you would have consulted with them. Finally, the last table was the career services.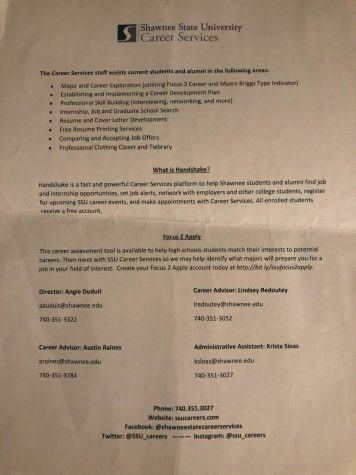 SSU Career Services is an excellent way to consult with advisors on post-graduation plans and deciding on what you want to do. Do you want to get a job?  Do you want to go to graduate or professional school? Need help with your resume and/or cover letter? Career Services was there to help you.
Good luck to all graduating seniors!