First Ever Virtual Shawnee State Fall Bear Run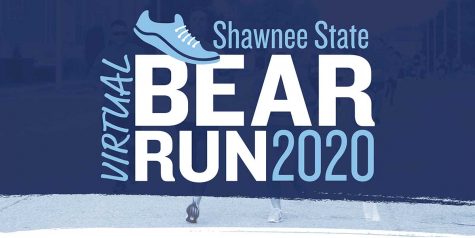 The Shawnee State Bear Run is a biannual event that occurs during the Fall and Spring. It is a Shawnee tradition since the first race in 1995. The current course goes through SSU's campus and along the Portsmouth Floodwall Murals. Due to the pandemic, changes have had to be made to this event to protect the health of the participants. While you are still welcome to use the course in Portsmouth, you can now complete the race from any location you like. This year will be the first ever Virtual Fall Bear Run where runners can select their own route. Everyone over the age of 10 are welcome to participate.
You can register for the race online at www.shawnee.edu/athletics/shawnee-state-bear-run. The registration fee is $20.00 which includes a T-shirt, Racing Bib, and Medal. These materials can be picked up at Shawnee State University in the Morris University Center beginning October 12th or you can have the items mailed to your house. All proceeds from the Bear Run will go towards the Friends of Shawnee Scholarship Fund. This scholarship was established by the Development Foundation to award this annual scholarship to Shawnee State students.
After you register for the race, you will be directed to an information page which tells you how to participate in the virtual race. In order to maintain social distancing, participants are encouraged to download the IYR Virtual app which tracks your distance and pace and uploads the information to the race results page once you have completed the distance. Racers also have the option of recording their time using Google Maps and uploading it manually onto the results page. Runners can begin submitting times on Oct. 17, and submissions will be accepted until Oct. 31.
Eric Hacker, an SSU student and past participant of the Bear Run said, "I think what I like the most about the Bear Run is that it has the ability to take people from not only the students on campus and Portsmouth, but also people from around the State and even in Kentucky to participate in a genuine 5k."
Online registration for the Virtual Fall Bear Run is available until Oct. 11. For more information visit the race website at www.shawnee.edu/athletics/shawnee-state-bear-run or contact Kara Stump, the event organizer, at [email protected].