Are Americans More Stressed Than Ever?
As a year like no other comes to an end, stress levels are on the rise
2020 has been a monumental year that will, without a doubt, go down in history. From the COVID-19 pandemic to the 2020 election, from raging wildfires to protests, this year has presented challenges that no one ever expected to have to face. As the year comes to a close and the holidays quickly approach, many people may be feeling extremely burnt out and stressed.
According to the American Psychological Association, many Americans are feeling considerable amounts of stress due to the pandemic and are reporting higher levels of stress than in recent years. A poll ran in April and May showed that, on average, Americans rated their stress a 5.4 on a general scale. This is a significant increase compared to the 2019 Annual Stress survey, which was 4.9.
Stress can have a significant impact on a person's emotions, mood, and behavior including social isolation and withdrawal; weight gain or weight loss; increased frustration; and feeling overwhelmed or overloaded. During a year like 2020, these effects have likely only worsened.
COVID-19 has undoubtedly contributed to American's stress. In April, during the height of the COVID-19 pandemic, the unemployment rate reached 14.7%, the highest it's been since the Great Depression. Millions of Americans lost their jobs, adding even more stress on top of already uncertain circumstances.
About 75 percent of people reported moderate to high levels of stress in the past month, and of that 75 percent, over half felt that their stress has increased within the past year.
There is no "one" way to define stress. Everyone experiences stress in a different way and there are many influences that can contribute to a person's level of stress such as money, work, home life, school, and politics. There are other factors that can contribute to a person's stress as well, such as economic status, race gender, and sexual orientation.
According to the American Institute of Stress, 46 percent of people say that workload is their main cause of stress. In the graphic below, it is important to note that 6 percent of people felt that job insecurity was the main cause of stress, and with the COVID-19 pandemic, job insecurity has only risen likely causing stress to rise as well.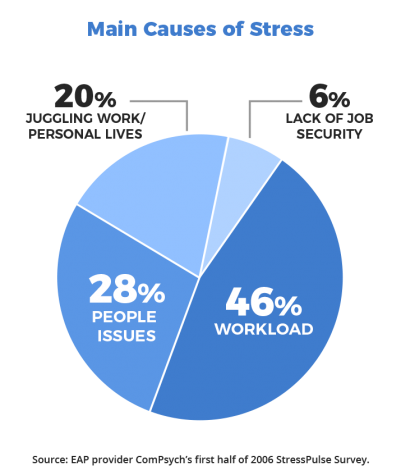 While stress seems to be unavoidable for most, there are some ways that can help people to cope with the effects of stress or even lower stress levels.
The following are some tips for managing stress:
Accept that there are events you cannot control and instead focus on what you can control.
Try meditating
Take a walk and get some fresh air
Start writing down your thoughts
Prioritize your health by eating a well-balanced diet and getting enough exercise
Take time for yourself
Leave a Comment
About the Contributor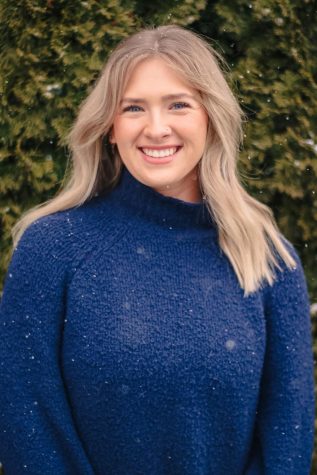 Aubrey Boland, Assistant Editor
Aubrey Boland is in her senior at Shawnee State University where she will graduate in Spring of 2022 with a bachelor's degree in English with a Communications...