Shawnee announces in-person graduation and full return in Fall 2021
After a whole year of combating the COVID-19 pandemic, things are finally starting to look up.
On Mon. March 15, Shawnee State University's Office of the President released an exciting statement regarding the upcoming Spring Commencement ceremony as well as plans for a full return to campus in the fall.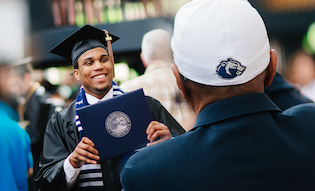 President Jeff Bauer officially announced that the 2021 Spring Commencement will be held in person. The ceremony will take place outside – rain or shine. There will be guidelines in place including likely limited seating, social distancing, and mask-wearing. No further details have been released at this time, but students can expect more information in the coming weeks regarding graduation.
This will be the first in-person graduation ceremony to take place at Shawnee since the beginning of the pandemic. The past two commencements have taken place virtually due to the risk of in-person events.
A virtual graduation is not what most students picture when they think about their big day. "I was disappointed to think that I might not get a real commencement ceremony, but of course I understood why," said Josie Miracle, a student at Shawnee. Miracle is set to graduate in May with her degree in Dental Hygiene.
"I'm excited to be able to graduate in person to show my family what all I've accomplished." Being proud of your accomplishments is what graduation is all about.
Like, Miracle, many college students look forward to their graduation from the moment they step foot on campus. It's an accomplishment that should be celebrated with friends and family, and like many other things, COVID has made doing so a little more challenging.
Up until this point, COVID has forced universities all across the country to cancel their graduation ceremonies and hold them virtually. SSU knew they wanted to have graduation in person if possible, so with this goal in mind, they have made every effort to follow all of the recommended COVID-19 guidelines.
An in-person graduation is not the only thing students and staff have to look forward to. The President's statement also mentioned a full return to campus by Fall 2021. This includes fully in-person classes, on-campus events, athletic competitions with spectators, and various other extracurricular activities.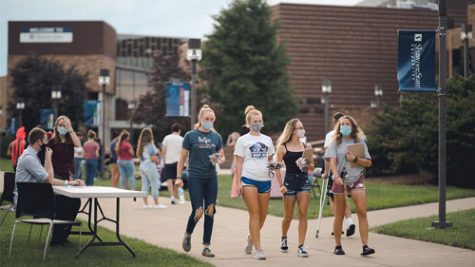 This is the first announcement since March 2020 that has been this hopeful as we near the end of the pandemic. It has been a difficult year, but this statement is extremely encouraging for students, staff, and faculty.
Some continue to question whether or not life will ever return to the way it was before the pandemic, but many remain optimistic that there is an end in sight as the vaccine becomes more readily available.
As of March 19, roughly 115.8 million doses of the COVID-19 vaccine have been administered across the U.S. and 4.1 million of those doses have been in Ohio.
Shawnee is encouraging those who feel comfortable enough to get the vaccine, to do so as soon as it becomes available. Receiving the vaccine is the best way we can fight the COVID-19 pandemic and eventually bring it to an end. As the number of vaccinated people increases, so do our chances of returning to normalcy.
As we come up on the final stages of Ohio's vaccination process, SSU has released several statements regarding vaccine availability. Beginning on March 29, vaccination eligibility will expand to all Ohioans ages 16 and older.
Throughout the entirety of the pandemic, Shawnee State University has been doing everything in their power to ensure the safety of all students, faculty, and staff.
While many other colleges and universities were forced to shut down for a second or even third time over the course of the past 2 semesters, Shawnee did not. Shawnee buckled down and took the necessary precautions to minimize the spread of COVID-19 which allowed students to return to campus in Fall 2020 and remain on campus.
If it weren't for Shawnee's diligence in combating COVID-19, the class of 2021 would not have been able to have the graduation they had all been hoping for. Shawnee has worked tirelessly to ensure the safety of all students, faculty, and the entire community of Portsmouth as a whole.
Keep an eye out for more information regarding the 2021 Spring Commencement Ceremony as well as information on the return to campus