Coffee, conversations and community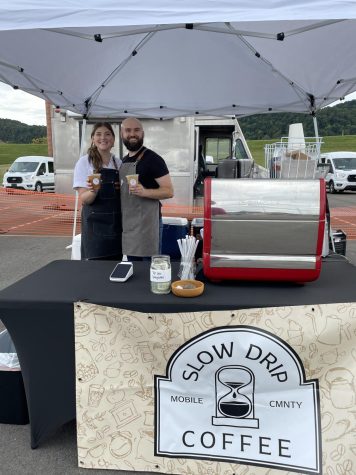 Calling all coffee lovers at Shawnee State University: A new coffee business has sprouted in Portsmouth that is offering big-city drinks in a small-town way. Owners Brandon and Emme Shover dreamed of owning their very own coffee shop, and this past year they finally opened Slow Drip Mobile Coffee Community, better known as Slow Drip. 
Brandon and Emme are both alumni of SSU, but neither is originally from the Portsmouth area, which makes their reason for wanting to set up roots in the Comeback City all the more interesting. Brandon, who is from Wellston, Ohio, and Emme, who is from the Cleveland area, wanted to establish their family and business in Portsmouth because they wanted to be part of the momentum that is changing the town. They loved the hopeful atmosphere and hard work ethic the people of Portsmouth represent.
Slow Drip has been a lifelong dream of Brandon's, and when he met Emme at SSU, she, too, had a love for coffee. The bond that they shared over the drink, along with their calling to Portsmouth, is what inspired Slow Drip. They realized that coffee is more than a caffeinated beverage that gets you through those long hours of studying. It is really about the meaningful conversations that people have with friends and family over that special drink.
"It's a counter-culture way of slowing down," Emme said.
The couple came to appreciate the pure bliss that comes out of getting together with other people and taking the time to get to know them. 
As of now, Slow Drip does not have a permanent location. Brandon and Emme have been setting up at local farmers markets, Earth Candy Farmacy, Localpalooza and other small business events to get their name out into the town. However, by the end of October, they hope to have their coffee truck, Bonnie, up and running. Having Bonnie will be a game changer because Slow Drip will be able to expand its menu to more extravagant drinks such as pour-overs and frappes, and multiple drink sizes will be available. The couple also hopes to be able to do more than one event per day and possibly expand their locations to weddings and other private events.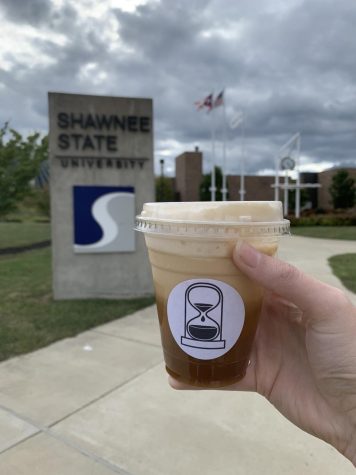 Slow Drip's menu includes typical coffee drinks such as lattes, espressos and americanos, but it also includes seasonal drinks like the pumpkin spice latte, pumpkin cold foam iced americano (pictured) and more. A lot of thought went into creating the menu, and Brandon and Emme considered the preferences of the community, as well. They began the process of choosing what drinks to offer by starting with their personal favorites and then trying other people's coffee and making it their own. They know that complicated coffee drinks can be overwhelming to order, so they wanted to keep it simple while still offering specific drinks like the brown butter latte, which is typically only available in big cities. Slow Drip's coffee beans are from Grindstone Coffeeology out of Huntington, W.Va. 
Making their dream a reality and opening Slow Drip in Portsmouth is an impactful move for Brandon and Emme because they wanted to be part of something good. Portsmouth is coming back to life through the efforts of those in the community.
"There are cool opportunities out there," Brandon said. And he and Emme want Slow Drip to be a prime example of that.
In the future, they hope Slow Drip can partner with treatment facilities in the area so they can train people in recovery to become certified baristas and make a significant impact in people's lives. 
For more information about where Slow Drip will be and the full menu, you can visit their Instagram: @SlowDripCoffeeTruck or Facebook: Slow Drip Mobile Coffee Community.