SSU and Local Law Enforcement Host Community Block Party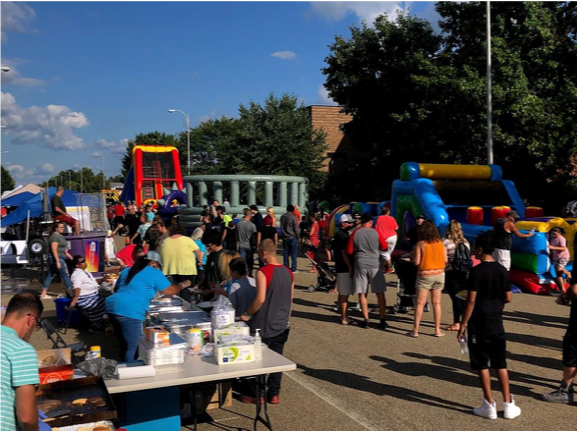 Imagine the warm summer sun hitting your face, the aroma of burgers fresh off the grill, hearing children laughing and seeing them dance to the beat of live music. This was a sight to be seen at the third annual Portsmouth Block Party. This lively event took place on September 7, 2019 between 4 and 8PM on 3rd Street near Shawnee State University.
City law enforcement, along with Shawnee State University, invited the Portsmouth community and surrounding areas to a fun, free, and family-friendly event. There were a variety of activities at the Block Party for students, children and families to enjoy. With free food, live music, a petting zoo complete with horseback rides, inflatables, a dunk tank, local vendors at various tables available for the community, the cost was completely free. This event has been put on annually for the past three years in the same location for one reason: to break down stigmas about the community and law enforcement.
Portsmouth City Police Chief Robert Ware had much to say about this community event. A friend, Drew Carter, approached Ware to discuss the "need to have a party" in Portsmouth after the Ferguson Riots to build the connection between the community and the local police department. This event is open to the Portsmouth area and surrounding communities to "bridge the small communities and the large communities together", according to Police Chief Ware. "Through this event, families are able to come and interact with the officers; that way they can see them as real people and not just an authority figure that comes when negative issues happen," stated Ware. "It breaks down negative stigmas, communication barriers and stereotypes on both sides for the people and the officers."
Families, students, and community members came together this year and had some good old-fashioned fun with the officers. The event is going to be continuing for years to come where the community and students can come together. Anyone in the community has the opportunity to set up a booth for their local business, club, or pieces of art. If you or someone you know would like to be a part of this event or would like to set up a booth, reach out to Police Chief Ware or Drew Carter for more information. To find out more about local community events, Police Chief Ware encourages students and community members to use the "Heads Up Emergency App" to be updated about community safety and great events like the Annual Portsmouth Block Party.