Bears Player Profile – Shawnee State's #98 Carlos Solmolinos Bravo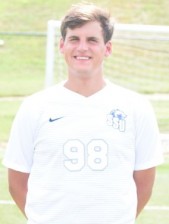 Carlos Solmolinos Bravo is a junior transfer student who previously attended Northwest College in Wyoming. Bravo represented the soccer program there, playing for the Northwest Trappers as they competed in Region 9 of the NJCAA Division 1 conference.
Born in Gijon of Asturias, Spain; Carlos Solmolinos Bravo won All-Region IX North 1st team as a midfielder for the Trappers in 2018. Bravo has always loved soccer and said it has always been a part of his life, especially as his twin brother also took the trip across the North Atlantic Ocean to attend college in America to pursue his dreams of playing football.
Bravo transferred to Shawnee State University in the summer of 2019. The newly converted defender had a tough start at Shawnee, missing the first five games of the season due to his processing from the NAIA being incomplete. Once authorized, he boosted Shawnee's defense. He has also got on the scoresheet to when scoring the opener versus Cincinnati Christian
When speaking to Bravo about his time so far at Shawnee, he said "I have had a great experience with the college and the team is performing better and better each week which is always a positive, but our job is not done yet, as we are aiming for that school record." The record Bravo is referring to is the men's soccer team being only two wins away from breaking the most wins in a single season, which currently stands at nine.
The Bears are entering the end of their season, where they take the next two trips away to Kentucky, then close the season in back to back home games. The last game for the men's soccer team is November 1st vs the University of the Cumberland's on Shawnee's home field.